The Future of Rowing at the Olympics
How Rowing Should Adapt to Stay Relevant—and Grow its Base—on the World's Grandest Stage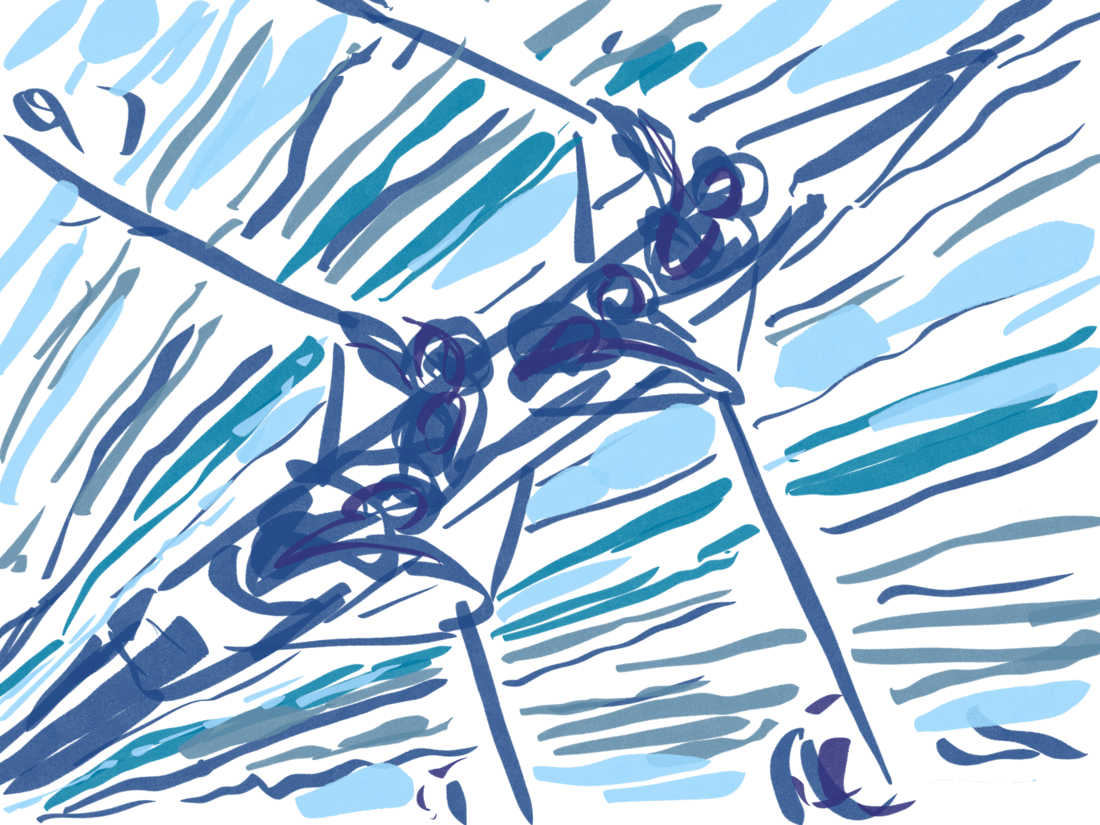 THE OLYMPIC GAMES in Rio were the end of an era for international rowing. That era, which was in some ways defined by international expansion (thanks in part to lightweight events), served to greatly increase the number of nations competing at the elite level, while staying true to the history of the sport. However, with the IOC continuing to push for not only gender equality (something that rowing has at long last achieved) but also athlete quotas, the sport may well have to adapt beyond the solution it settled on for Tokyo (removing the lightweight men's four and adding the women's four), and work to increase its relevance not only within the Olympic Movement but also in sports culture writ large.
As many rowers know, rowing was not always an afterthought in the sports world. Go back 100 years, or even to the 1936 Olympic Games, and you'll find that was a great deal of enthusiasm about crew, far beyond The Boys in the Boat. But that changed as American sports culture evolved over the latter half of the 20th century, and football and basketball began to capture more and more hearts and minds across the country. The following isn't meant to suggest that rowing could reclaim its former position as a front-page news item next to Super Bowl results, but rather that it could do more to advance its interests both as a spectator sport and as an institution at the Olympics. Here's how.
There have been a slew of articles on this subject recently, and some very influential people have weighed in on the subject, including Sarah Cook (in a recent issue of Row360) and Matt Smith (in the latest issue of Rowing News). Similarly, I've interviewed USRowing's Mike Teti on the subject, and, in speaking with Teti about rowing and about the Olympic Movement, he's often come back to one point that has stuck with me: Basically, it's tied to the cult of Michael Phelps.
Let me explain.
The way Teti phrases it, and I hope I'm doing it justice, is this: Swimming is no more visually interesting as a spectator than rowing, but people care about swimming during the Olympics. From an interview I did with Teti for Rowing News in March of 2017:
"I'm in a no-win situation here," Teti says with a laugh. "I tend to be a little more radical—I think one of the biggest problems with our sport is that we have all these events, and everyone competes in one event. What other sports, like swimming, have over us, they're able to have multi-medalists. If it were me, I'd reduce the number of athletes and make everybody double up or triple up—some kind of derivative of that."
Why is that? In Teti's view, and mine as well, it's because there are superstar athletes. It's the same reason behind the NBA's meteoric rise in popularity. Individuals make a huge difference.
Again, quoting Teti from my 2017 piece:
"To me, I'm a sports fan, but during the Olympics there are events that I watch because they pique my interest. I don't watch swimming, but now all of a sudden Katie Ledecky is going to win six medals, or Missy Franklin, or even the Winter Olympics is probably a better example. I've never skied in my life, and I don't really know a lot of these sports, but then, wow, this person is going to win three medals in cross country skiing, or this person is going to win the downhill and the Super G—that's what we don't have."
This flies in the face of the traditional rowing ethos of the collective before the individual. In rowing, the values are reversed: Sit down, shut up, and pull as hard as you possible can for the person in front of you. It's not about you.
While this is admirable, and perhaps more virtuous than what I'm about to suggest, it's also not really true about rowing. Individuals do matter, and some rowers are incredibly talented—the same way a LeBron James can instantly make a sub .500 basketball team into a playoff contender, so too can a Kjetil Borch or an Eleanor Logan make a tremendous difference, whether they're in a single or an eight. No, it's not exactly the same as basketball, but that's beside the point.
What that means is that there are individuals who are capable of being 'stars' in rowing, but right now, the way the events and international regattas are structured, they have trouble shining as bright as they could (yes, there are examples like Kim Brennan, but rowing multi-medalists at a single Olympic Games are exceedingly rare, and the sport more obscure because of it).
How can they achieve that potential?
Embracing the IOC's push for athlete quotas, FISA could effectively solidify rowing's standing in the Olympic Movement for the foreseeable future, as well as greatly increase the popularity of the sport by generating 'star' athletes, by having each nation represented by a much smaller number of rowers, and having them compete in multiple events.
That's why Katie Ledecky & Michael Phelps are household names.
(Swimming is more popular than rowing, but so is cycling—when was the last time you read a headline about cycling in a U.S. paper since the fall of Lance Armstrong?)
Imagine this: Instead of competing once and winning a single, albeit incredibly thrilling, gold medal in Rio, Mahé Drysdale could have also had a shot at the podium in the double, or the four, or the eight. Imagine again if he had won three, four, or five medals at Rio—he would have become a recognizable figure outside the sport, and the sport more well known as a result.
So, not only would the above address the issue of the IOC's push for athlete quotas in the short term, it would likely also increase the sport's popularity within the Olympic Movement, as recognizable, international superstars began to emerge.
While the lower number of athletes would mean (obviously) that there were fewer opportunities to reach the Olympics, that seems unlikely to hurt the sport in terms of growth. The potential to reach the Olympics is certainly a driving force behind interest in Olympic sports, but think of the infinitesimal chances for would-be 100m sprinters—those odds haven't slowed interest in track & field. Far more important is the visibility of superstar athletes like Jackie Joyner-Kersee and Usain Bolt.
Also, smaller teams may have the side effect of making the sport more accessible to a wider number of competing countries, thereby preserving some of the benefits reaped from the era of the lightweight four.
At this point, you might ask, 'but won't asking athletes to double- or triple-up during competition be an issue given the difficulty of racing 2,000 meters?'
Yes, but hear me out. Let's talk specifics:
First, keep all the same events, but the quad and the eight become 'team' events (athletes must double up to race in the large boats). No restrictions regarding how many events athletes can compete in—that is left up to the coaches & federations.

Second, the race distance should vary—there should be multiple race distances, in addition to the 'regular' 2,000m race:

The race program should include 1,000m and 500m sprint events. Not only would this make the racing program more manageable for the athletes competing in multiple events, but also it would align rowing with the canoe & kayak program.

That would also help to 'future proof' rowing at the Olympic Games, because it would show that the sport is willing to adapt to the IOC's vision, as well as prepare the rowing community for the possibility of removing the 2k distance at some stage (right now, rowing makes itself something of a nuisance by requiring a racecourse that is inconveniently long & generally isn't used—at least in full—for other competition).
Both of the above changes would improve the spectator experience, since a) spectators would have recognizable stars to root for, or b) the races would be shorter. Changing the race distance would break with recent tradition at the Olympics and World Championships, but remember: The U.S. collegiate national champion used to be decided over a 3-mile course, and the Olympic Regatta has taken place at Henley-on-Thames on more than one occasion.
It's not a perfect solution, but it does solve a lot of problems for the sport in a world where kids can now get scholarships to play video games, and has the potential to grow rowing's influence within the very movement that sustains it. Also, it sounds fun.
Prove me wrong.
Illustration by the author.